Essentials of

Sublimation Printing Business
Your T-Shirt! will get to recognize the power of computer sublimation to allow custom shirt printing in production runs as small sublimation unit. How will you Imagine the ability to create a custom shirt?  You need to choose the material and style of the shirt at the initial level, and then the image or graphic you want on the front and/or back. This is the ultimate form of expression.
There are no limits to what you can communicate. People love to show fanaticism for a particular sports team, others a musician or any of thier obscession. You can also carve a social message or cause on your shirt. You can print any image on your shirt and whatever you feel like. 
Sublimation printing is one of the popular method for printing high-quality images onto a variety of fabrics and items as the display features no resolution loss when comparing to the original image. A clear image as a source look, a product made using the sublimation process will sustain its quality throughout the years.
'Sublimation'  can be defined as turning a solid into a gas and back into a solid without any liquid stage. This allows the application of sublimation inks into the surface of a material using a Heat Press to provide the required combination of heat, time and pressure.
This great combination causes the inks that needs to be converted from a solid to a gaseous state enabling them to penetrate the surface so that a permanent, full-color image is formed. The color penetrates the material giving a result that is long-lasting, colorful and resistant to scratching.
What Materials Can Be Sublimation Printed?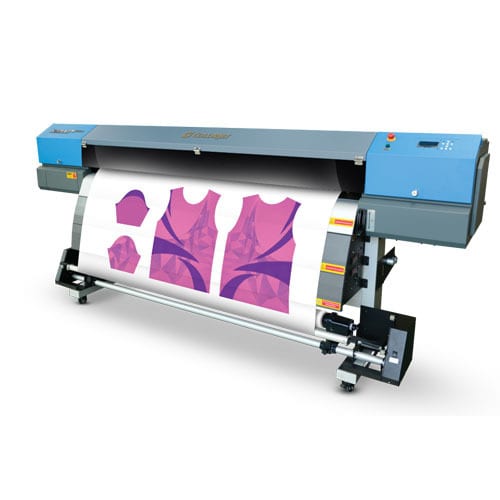 Suitable materials polymers  which are man made such as Polyester and PVC. Considered to be 'hard' such as a polyester-coated sheet of aluminum or ceramic tiles or 'soft' such as poly-cotton textiles. At the duration while heat press stage the pores of these polymers open to allow sublimation ink (now in a gaseous state) to enter. Soon the temperature drops  and the pores closes leaving the now solid ink image as part of the polymer.
Printing machines:
Dye-sublimation printers are crafted from the ground up for fast fashion, high fashion and performance apparel printing featuring a robust print mechanism, high-performance print head technology and advanced ink technology.
Heat transfer printing machines:
These Machines are utilzed for textiles, furnishing, fashionable apparel, sportswear, promotional apparel, panels, metal, films etc. The heat transfer machine comprises of the following categories:
PIECE to PIECE: You might seen these flat presses for printing substrates and fabrics in cut pieces. DCC offers an anonymous range of conventional hot plate presses for sublimation and transfer printing. Theses are available for individual presses for special applications.      
ROLL to ROLL: You can say these are calendars for printing continuous and reel-wound materials. Exclusively made for continuous printing of furnishing fabrics and fashion fabrics, non-wovens, and films, these have limited runs of promotional materials, narrow strip fabrics and ribbons.
PIECE to ROLL: These are again special calendars capable of operation in both modes, material in cut pieces and rolls. Utilzed to transfer paper in both sheet format (screen-print, off-set) and roll format (rotary, digital)
Investment and costing:
This business is costly compared to other businesses. Sublimation is an instant and affordable, but not cheap by any means, as margins tend to run high for sublimated products.
You not only require to invest in sublimation paper, essential software, and products that you can sublimate, but you also need a heat press.

Depending on your desired maximum image size, a compatible desktop inkjet printer and sublimation inks run from about 600 for 8.5×14-inch to about 1,600 for 13×19-inch. High-quality heat presses typically range from 1,000 to 1,500. Imaging costs are pocket friendly at well under 0.01 per square inch of coverage.

Let's take an example, an 8×10-inch full-color image would be about 0.56. Printing time for such a graphic would run about 40 seconds, and pressing 60 seconds, for a total production time of about two minutes.
 Is Sublimation printing a profitable business?
Of course, this is a profitable business as once it's established you don't need to look back.

Proper grip and variations can make you a successful businessman.

Another important aspect of sublimation is that it's the ideal on-demand, short-run process as there is no time-consuming setup like you find with methods such as screen printing.

Thus it's quick and cost-effective to run those smaller sized orders, which typically have the highest per piece margins.
There are many ideas which can help you: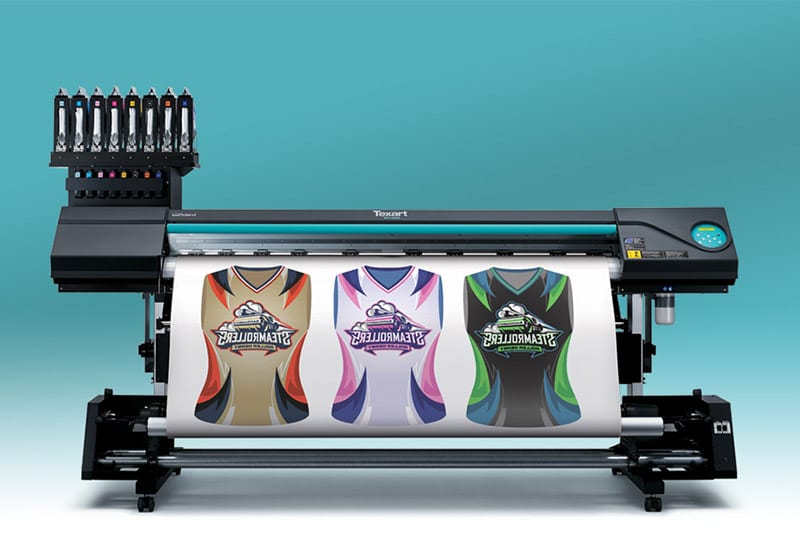 Sports products: Customized products by showcasing finished goods to your customers (snowboards, skis, and more) before committing to more traditional print runs.
Textiles: Customized fabrics to be used in various cut-and-sew applications with dye sublimation inks for virtually indestructible images that are incredibly vibrant and detailed.
Murals: Customized ceramic, hardboard, or with unique and fully customized images for kitchens, bathrooms, foyers, museums, restaurants, and offices
Office promotion: Include Mugs, pen, dairies, mouse-pads, clipboards, and message boards (to name a few examples) are ideal promotional products that are easy to sublimate and easy to sell.
Awards and Recognition: Plaques, sheilds, frames and trophies that were once limited to single-color images and/or engraving can now be decorated with high resolution, full-color images via sublimation.
Signatory and Signage: Creations, high impact POP, tradeshow, or interior signage, enabling your customers to effectively market time-sensitive products or price changes.
Picture Gallery and Personalized Gifts: From personalized gift items such as magnets, license plates, clocks, and dolls to commercial photo panels, sublimation is the perfect application for delivering high-quality photographic images to a wide range of markets.
Make it legal:
Register your business. Register the business name and the business with the Secretary of State. Also, get an Employer Identification Number (EIN) and register for taxes with the Internal Revenue Service (IRS).
Research the market. First get clear what type of sublimation you will specialize in. You can also try to choose the specific sublimation services you would like to circulate. Some sublimation services may also include name badge sublimation, desk signs, plaques mugs, T-shirts, trays and interior signs.
Locate your business
You can choose both online business as well as offline. The physical location can be your home also. A small adequate space of 100-by-100 feet  to carry out your sublimation business is sufficient. Your sublimation business can also be home-based since you do not require a lot of space.
Hire employees.
Trained graphic designers, fine arts or communication skilled employees can be beneficial for you. The employees should also have skills in computerized design and printing techniques. You can choose your employees through online job portal consultancies and references.
Connection and networking
You can work for any individuals as well as corporate clients. Many companies. Organization and also individuals can take your services you can connect to photographers, graphic designers to create signs and fliers, and clothing companies to print garments, with T-shirt printing being one of the most popular. You can get new clients by carrying out promotional offers and offering customized solutions.
Design software:
Here's a lot of useful resources out there so there's a ton of videos on YouTube on how to use like Adobe Illustrator or CorelDraw or anything like that. So take advantage of that. Also, you know maybe you could take like a college course or something at a community college. This can save a lot of time and headache even if you can learn the essential tools and then learn a tool day and build on that and eventually you'll be using the program in no time.
GIMP

Pixlr
Inkscape
Autodesk SketchBook
Adobe Illustrator.
Adobe Photoshop.
Adobe InDesign.
Canva.
CorelDraw is user-friendly compared to Adobe Illustrator or Photoshop but they all work well.About 70% of customers use CorelDraw at this time. It's not necessarily because it's the best program but a lot of customers started out layering and it was just an easy jumped sublimation they just adapted that. 
Manual Press and Automatic Press
An Automatic Press
It uses air compression. You can set the timer and press releases automatically.

So now you press something for a 30 minute, you have a customer come into the store and you start talking to that customer and you kind of forget about the press and pretty soon you're hearing it go off and it'll automatically really release that press.
Manual Press
Once the timer is off you need to do it manually. That's a nice feature about the automatics.

The downside to an automatic is that it uses psi so you can't get a good feel for pressure.

It's difficult to explain a light pressure is and what a heavy pressure is just because you can't feel it like a manual press.
What Items Do You Want to Sublimate?
If you're somebody who's been lasering name tags for a long time but you wanted to start doing full-color name tags something like the smaller printer that has eight and a half by 11 updates and a half by fourteen capabilities that might work for you.

The next is you always want your heat press to be larger than your max size of the print.

If you have an SG 8 or SG 400 415 and you can do eight-and-a-half by 14 you might think okay a 15 by 15 press will work. If you are seeking for great future and seeking to great with an SG 800 you would also have to buy a whole new press

.

Though people generally recommend with at least a 16 by 20 press. As you now that that'll cover that 13 by 19 paper size.

Another issue often saw that customer troubles doing a certain item because they don't have maybe the right accessory or press doesn't cooperate with that item for instance like acrylics with clamshell presses
Sublimation Ink
You need to choose the correct ink as your business depends on that. Most inks are being sold at cheap rates. A majority of them will be selling cheap grade inks made in China. All you will have with these inks is trouble and rejection at the least. The colors will never pop up like real in your transfers. Shades in the images will be running awry. Be double sure to use the right inks for your sublimation business
Non-polluting Industry – No special permission

Prominent for Small rub production or even batch production

Limited manpower requirement

 Pre-treatment or post-treatment like coating or washing is not essential

Fast Process enabling quick & large production

Flexibility to set up small print setup

Extraordinary vibrant print results

No Hand or Feel to the printed fabric

Excellent wash and fade-resistant transfers

Relatively Fewer investment costs

Fast return on Investment
Challenges
With so many advantages, we have a few challenges to handle.
Artificial fibers like polyester, Nylon 66, polyvinyl, polyethylene, and fluoropolymers or blends can complete sublimation printing tasks.

This process cannot be used on natural fibers like cotton, jute, etc. Digital printing is designed to use CMYK inks to print on the white substrate.

As a limitation of digital printing, make sure the fabric must be white.
The limited speed of the printer as compared to demand requires multiple printers to be used to achieve the desired level of productivity.
Conclusion
This is an attractive business with Low investment and fast returns can provide you an opportunity to get a successful earning model. The market is flourishing with new ideas and business modal and this is one of them,
 You need to seek for  good quality equipment and consumables like dye sublimation inks and sublimation paper as they are the key factor for cost-effective production and competitiveness.
This article provides you great opportunity to understand the sublimation printing business. Comment and let us know what is your earning modal.