When it comes to snacks the most popular one is potato chips. Potato chips are in the market for ages. The global potato chips market is expected to grow at a CAGR of 4.3%. During the period from 2017-2022, to reach a market value of USD 40.3 billion by 2022.
As there are many factors responsible for the increase in demand for potato chips in the market such as availability and easy affordability, increasing the young population, growing disposable incomes and change in lifestyles.
So let's get into deep how you can establish your potato chips factory. Like any other factory, potato chips factory also requires proper guidance.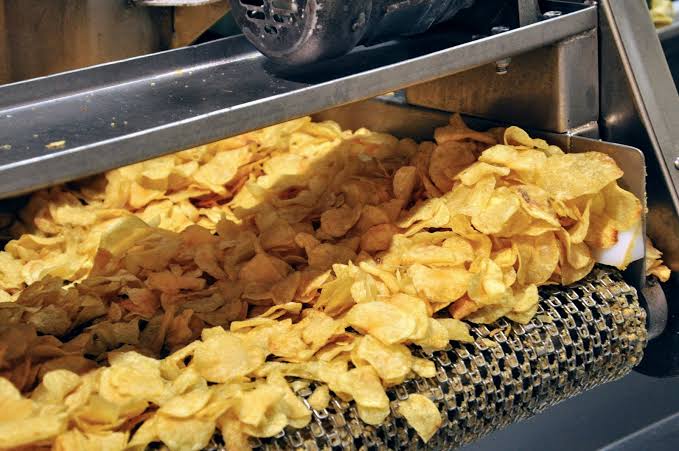 Market analysis:
Before starting any business you need to analyze the market with keen interest. Research is important in every aspect.
The big question arises is from where to start?
Here you get the detail business plan that will help you to start a small-scale potato chips factory.
India is the largest potato growing country. Around 12.5 million potatoes are grown in India which is 5% of total potato grown in the whole world.
But as it an agricultural product, the disadvantage is that the potato is spoiled due to transportation, storage system, and other environmental changes.
With the change in taste and preferences, there are variations in the market, like the low-fat and low-sodium chips, in the emerging markets also factor supporting the growth of the chips market.
Not only India but potato chips have their demand worldwide. Potato chips are healthy there is no harmful ingredient.
Production is quick and it is easily available in every corner shop, shopping mall you can find the potato chips packet everywhere.
Plan your factory
You need proper planning before starting the factory. And according to your investment capacity, you will need to craft the project report.
You need to plan each point your location, labor, quality, supply chain. Potato chips are available in different flavors and taste with some attractive shape and texture.
Factory location
By considering all direct and indirect factors that help to grow market demand for potato chips it is a good idea to start the potato chips making business by investing small capital.
You can start the potato chips making unit from your home. With the government guidelines such as you cannot cook the other food in the location of the business or the pets are not allowed in production location.
The area around 1000 sq ft space is sufficient to establish a factory.
Make sure that the factory must have facilities like water supply, electricity, and drainage facility.
Legally register your factory.
Registration of Firm: You may start the small to medium scale cashew nut processing unit either a Proprietorship or Partnership Firm.
If you are starting this Potato Chips business as One Person Company, then you have to register your firm as a proprietorship.
For Partnership operation, you have to register as a limited liability partnership (LLP) or Pvt. Ltd. A company with Registrar of Companies (ROC).
MSME/SSI Registration: MSME Udyog aadhaar registration will help you to get all subsidies and another facility that offer by a state government
Trade Mark: you will establish your brand and company name hence you have to protect your brand and name by registering a trademark license
Food Safety and Standard Authority of India (FSSAI): Potato chips making is the food industry so you have to get permission from FSSAI
GST Registration: You will need to get GST number which is compulsory for every business owner
Trade License: Apply for trade license you need it to supply your product.
This type of production unit doesn't demand pollution clearance. However, it is better to have an NOC from the Pollution Control Board of your location.
Manufacturing process: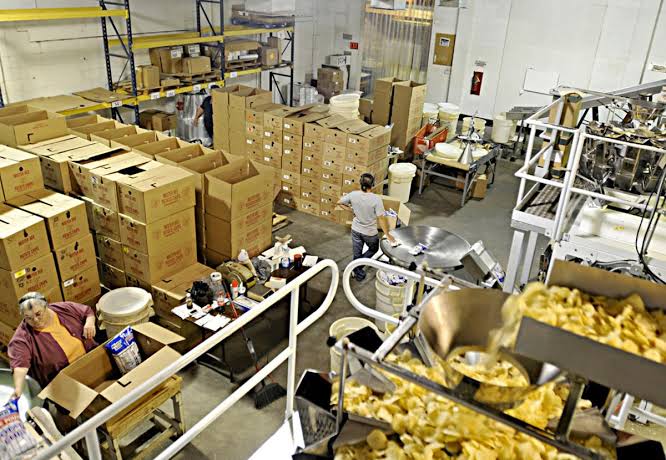 The raw material required:
You need to provide the best quality chips and for that, you need to get the best quality raw material.
Potato: Base material used in potato chips making make even slices of potato using machinery. Selecting potato is the main task so to do a quick inspection, draw random potato take the slices of them and check whether it is of good quality or not.
You need a vendor who can provide you sufficient and good quality raw material with minimum rates.
Edible Oil: To fry potato slices. You need to keep the quality high as people are choosing being health-conscious above taste.
Flavor & Spices: Flavors are used to make delicious chips with various tastes
Salt: An essential ingredient in every food item to add taste.
Packaging Material: Used to pack the proceed chips for marketing and selling also for protecting and preservation purpose
Preservatives: To store for a period so that it doesn't get spoiled.
Manufacturing machinery and equipment:
Getting a proper space will help you to take a step forward. Here is the list of tools, machinery and equipment to make your finished goods.
Slicing Machine (With Arrangement To Adjust Slice Thickness)
Spice/Flavoring Coating Machine
Spin Dryer / Hydro Extractor
Batch Fryer
Dewatering Machine
Plastic Trays
Washing and Peeling Machine
Salting Drum With Inert Gas Flushing Unit
Stainless Steel Working Tools
Vacuum Sealing Machine
Weighing Scales, Dispensers, And Fillers
 Start the process: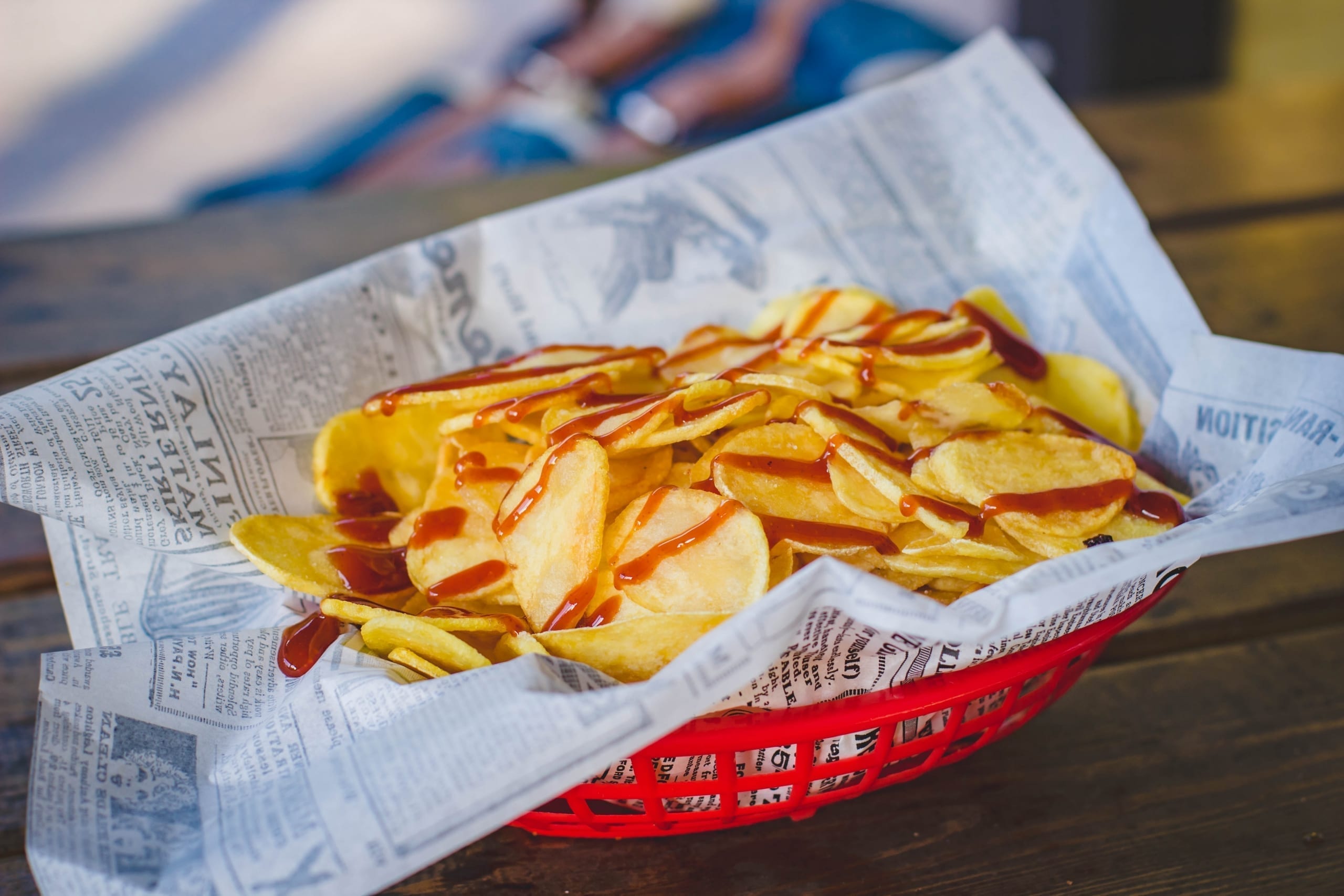 Sorting Potatoes:
When potato arrive at the processing plant, they were examined and sorted with the quality of potato
The large oval and disease-free potatoes are required for chips.
Green edge and blemish potato were separated from the useful potatoes
Washing & Peeling:
The selected potatoes need to be passed through the water spray container.
The potato will be washed with cold water and send them for peeling
Peeling process is takes place with the help of a peeling machine or it can be done manually
 Slicing:
After peeling the potato will cut into uniform slices around 1.7-1.85 mm thick with the help of the slicing machine, and the slices are immersed in cold water
Potato slices are kept in water with 0.05% potassium Meta bi-sulfate to avoid oxidation. Or to remove starch
Blanching:

After the slicing process, potatoes are blanched for 4 to 5 minutes in boiling water with the help of a blanching machine.
They spread in the tray then the inconsistent/ non-uniform slices are separated from the batch and then the remaining slices are moved to frying.
Use of dryer and fryer:
The moisture content of the potato slices is removed using the spin dryer or hydro extractor, later the slices are being fried in a fryer at 1900 degree Celsius for 4 to 5 minutes
And then kept in the container to cool and to remove access oil from the fried potato chips
Fill with flavor:
Fried chips are cooled, Flavors are spread on the potato chips as per taste with the help of salting and flavoring drum
Packaging:
After done with all the processing method the potato chips are ready to packaging
With the help sealing machine potato chips are packed and then packed into the carton boxes for delivery to the clients and customers.
Usage of machinery:
Washing and Peeling Machine: it is the starting procedure potato chips making, wash and peel the potato. This procedure is efficiently followed by washing and peeling machine.
Cutting Machine: then you go for cutting of potato in equal slices.
The cutting plates are mounted over the cutting machine that helps to slice potato according to the requirement.You can adjust the cutting machine according to the potato slices size and pattern
Blanching Machine: a blanching machine used to boil the potato slices for a short period. Blanch the slices for 3 to 5 minutes in boiling water and spread on trays at the rate of 4.88 kg. to 7.30 kg. per square meter of the tray surface.
The blanched chips are then subjected to a hydro-extracting machine (centrifugal) to remove the excess of water and fried at 1900°c for 3-4 minutes.
Packaging Machine: You need to pack the processed chips with the help of the packaging machine; you can use the attractive packets for packaging.
Costing of the factory:
Planning to start the factory on a small scale you may need to invest a minimum of Rs 1, 00,000 to over Rs 2,50,000 initially. The cost of the project depends on several aspects. .the working capital cost consists of raw materials, labor, and utilities and so on. Other expenses need to be managed are:
Production quantity, business size and many more.
The fixed capital of plant involves,
building,
machinery
the preliminary expenses
On a small scale, you can easily purchase a machine for Rs 35,000 or more.
Profit ratio:
Rupees 10 to Rupees 15 minimum on 100 grams. You can easily generate an overall profit of Rs 30,000 to Rs 40,000 monthly by investing Rs 1 lakh every month in the raw material.
The business has the potential of over 30 percent profit margin, even in small scale business. The profit margin in potato chips is around 30%-40% depending on the raw materials you are using for it.
Where to sale:
You can make a supply chain or a distributorship. You can create your wholesale market. You can directly connect to these for direct sale, Indiamart, Alibaba, TradeIndia Exportersindia, Amazon, Flipkart, Snapdeal, Bigbasket. 
By creating your chain for supplying it can help you to develop the market.
Promotion and branding
You need to create your brand awareness as it will help you to be recognized in the market.
You can contact event organizers, attend the party and other events to promote your potato chips, you can offer them a free sample for taste.
You can use social media for your brand creation as the whole world exists on that.
Quality that matters, food industry and liking for the product depending on taste, style of packaging and hygiene. You need to take care of all those things.
You need to come with some new flavor that will become your unique identity, innovate unique flavor.
For example, Lays, Balaji, Haldiram, and many more.
With the leading snack product (Potato chips) you can make your great impact in the food industry. I hope this article helped you a lot in increasing the knowledge to start the chips factory. Comment and let us know which is your all-time favorite munch.